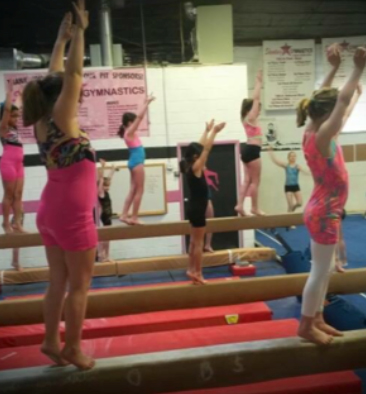 Grade School Classes are for Girls and Boys!
Grade School Classes
$163 for 11 Week Session
January 6th-March 21st
Boys Gymnastics (all ages) – These classes are specifically designed for the recreational student who is ready for more of a challenge. This class is designed for the beginner boy gymnast. Our goal is to teach the proper drills and skills towards accomplishing specific goals. This program places great emphasis on skill progressions and fun.
Boys Class will Return in later sessions.  Please consider Ninja Starz!
Firecrackers (Ages 6 & up) – Our Firecrackers class is an introduction to the sport of gymnastics. Gymnasts will learn basic skills on floor, beam, uneven bars, and vault. Gymnasts will work on skills that will develop balance, flexibility, coordination, and self-confidence.
Winter 2020 Session Times
Monday 5:45-6:45
Monday 6:45-7:45 
Tuesday 4:30-5:30 
Thursday 6:15-7:15
Friday 6:15-7:15
Saturday 9:45-10:45 
Rebounders (Ages 7 & up) – Gymnasts will continue to work on developing a stronger mastery of basic skills and learn progressively more difficult skills on all four events. Proper body form, self-discipline, and increased understanding of technique will be integrated with skills being taught.
Winter 2020 Session Times
Monday 4:45-5:45 
Tuesday 5:00-6:00
Tuesday 7:00-8:00 
 Friday 5:15-6:15
Saturday 11:00-12:00 
Twisters (by Ability) – The last class of the progressive program before the gymnast is invited to be a part of one of our advanced classes. This class will work on advanced skills on all four events needed for competition, and gymnasts will begin to learn choreographed routines for competition.
Winter 2020 Session Times
Thursday 6:45-7:45
Friday 7:15-8:15
Saturday 11:30-12:30
Advanced Gymnastics- This is an invite-only class.
Winter 2020 Session Times
Thursday 5:00-6:30 ($244.00)
Saturday 11:30-12:30 ($224.00)
Mighty Meteorites (all ages)-This class is being offered to any child who has any special needs.  the class is designed to accommodate children who need guidance and support with everyday activities and play. Mighty Meteorites offers a structured class with group songs and rhymes to help engage fine motor skills, gymnastics activities that allow the children to interact with others to develop socialization skills, and of course fun and physical activity all in a safe and friendly environment.
Winter 2020 Session
Friday 4:14-5:15
January Back Handspring Clinic
Back Handspring Clinic
January 25th
1:00-2:30
Cost: $20.00
At Team Gym
E-mail us at
joelle@shootingstarzgym.com