Meet our Starz Staff!
Shooting Starz Gymnastics classes are taught by a staff of highly qualified and accomplished gymnastics and cheer coach professionals. All have long-term gymnastics and cheerleading experience in technique and curriculum both as competitors and as trainers. Team coaches is each Safety Certified and Background checked by USA Gymnastics All of our coaches are First Aid and CPR trained by the American Red Cross.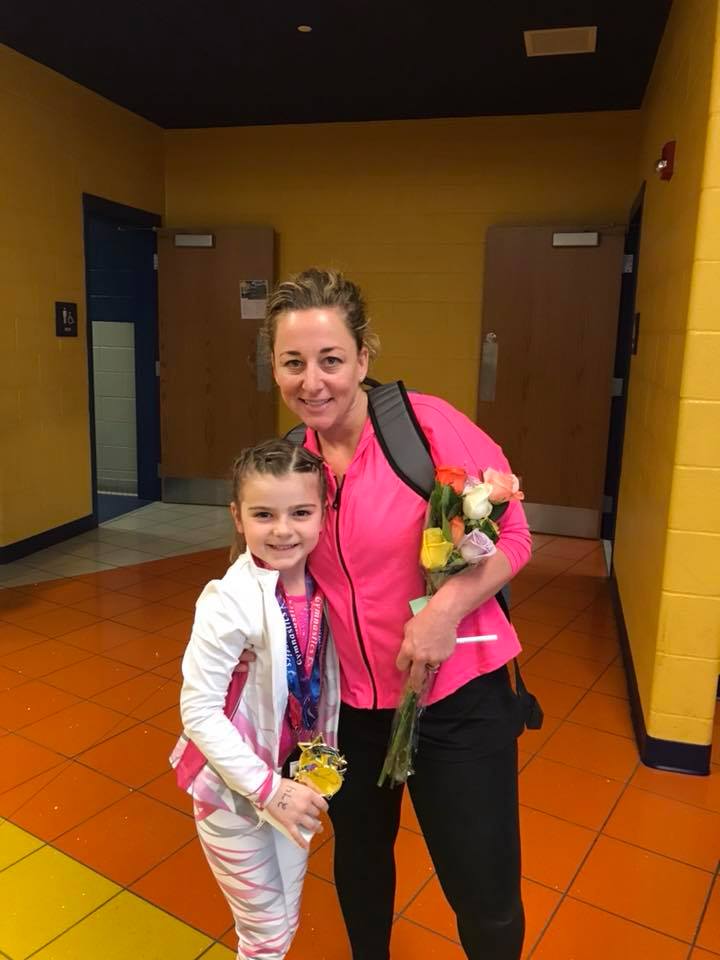 Joelle D'Arco is the proud owner of Shooting Starz. She made her dream come true in July of 2009 when the doors were opened to Shooting Starz. Joelle originally comes from Boston where she a competitive gymnast/dancer growing up. She attended college in Western Massachusetts with a degree in Biology.  Joelle is working on 18 years experience as a coach and loves coaching gymnasts of all levels. She has one daughter Lydia who also enjoys the gym in her class and a son Anthony.  Her favorite event to coach is Balance beam. She is safety, CPR and AED certified. Looking forward to our 8th year of Shooting Starz GYMNASTICS.

Dave D'Arco (Mr. DAVE) Is also the proud owner of Shooting Starz and has enjoyed every minute of it. In 2017 he began his Ninja class and it has grown incredibly. His Knowledge of gymnastics has grown along with his love for the sport. He will be seeing his own little girl compete in late 2017.
Laura Plaviak has been with Shooting Starz Gymnastics for 8 years. She has recently taken on the role of the Progressive Program Director.  Laura helps in making the SSG Class Program successful session after session. She also maintains a role at SSG as a Team Coach.  Laura was a competitive gymnast in her younger years and holds the title for PA's Level 7 Vault State Champion in 1997 and PA's Level 8 Vault State Champion in 1998. Laura's favorite gymnastics event is the Floor Exercise and her favorite gymnastics event to coach is Balance Beam. Her most treasured experience at Shooting Starz Gymnastics is watching all of the children in the classes and on team, progress to new levels in gymnastics. Most of all, she enjoys the smiles and giggles from all the gymnasts at SSG!
Ashlee Berry previously was a level 10 gymnast and was training for the elite level. She has been coaching all levels of gymnastics for 13 years, from mom and tot classes to level 10 gymnasts.  Ashlee enjoys coaching all events but her favorites are floor and beam. She also serves as one of the team's choreographers for beam and floor routines for the optional level gymnasts. Ashlee has attended several TOPs and elite clinics, and gymnastics workshops and trainings across the country.  When not in the gym, Ashlee works as a full time pediatric Physical Therapist with her Doctorate degree from Misericordia University. Ashlee is safety certified through USA gymnastics.  Ashlee recently had a baby boy, who she cannot wait to share her love of gymnastics with!
Sarah Plaviak was a competitive gymnast  for 5 years and competed at level 8. Sarah graduated with a degree in Early Childhood Education, Elementary Education, and Special Education. She now works at Bear Creek school.  Her favorite event to coach is floor exercise and she has grown to enjoy working with the younger & optional kids in the progressive program. She has now taken on a bigger role at the gym and assists with running the Team program. Sarah has been coaching at Shooting Starz for 4 years and is CPR and AED certified and also safety certified through USA gymnastics.
Sam Tencza is a 21 year old student Mesricordia University. She will be graduating May 2017. She was a competitive gymnast for most of her life, last competing at level 8 preparing for level 9.  Sam is a four year UCA All American Cheerleader who enjoys coaching classes and team at Shooting Starz. Sam was head of the level 4s for the 2017-18 season.

Lexi Kowalski is the level 3 coach who also enjoys teaching classes. She goes to Coughlin High School and is a senior and will graduate in June 2017. She will be attending Arizona State in the fall of 17. She was a competitive gymnast and finished competing as a level 8.  Lexi also plays Field Hockey and runs Track.
Ellie Bennett is a past team gymnast . She shares all her knowledge as a previous competitive gymnast with the growing gymnast in the program. She is a Senior at Elon University and will be home for the summer.

Haley Young has been coaching at Shooting Starz Gymnastics for over 5 years and is currently the Level 3 team head coach. She is a mother of two and was a former competitive gymnast under Joelle up until age 13. She loves to share her experience and knowledge of the sport with both competitive and class students. Haley has worked with every class in the progressive program at Shooting Starz and enjoys coaching children of all ages. Her goal as a coach is to provide a positive, educational, and exciting gymnastics experience for everyone!
Tori Yazwinsky is 21 years old and a junior at Bloomsburg University majoring in Early childhood Education.She enjoys working with kids and is very outgoing, always motivated and smiling. Her energy is put to good use hosting the birthday parties at Shooting Starz!
Kristin Tomcho has been with Shooting Starz since 2016. She is a 23 yrs old and working very hard towards her dream of becoming a large animal vet. Kristin was a dancer and cheerleader all throughout high school and loves sharing her skills and energy with everyone! She enjoys working with all levels of classes and striving towards becoming more involved with the team program. Kristin's goal for the new year of 2017 is to promote healthy workouts & nutrition facts to better educate the kids while focusing on core skills in gymnastics. FUN FACT FROM MISS KRISTIN *Kangaroos can leap 30ft and also travel more than 30 miles per hour.
Taylor Grozio is a level 9 gymnast at Shooting Starz and an honor roll student a Crestwood High School.  Taylor has been with Joelle training as a competitive gymnast for 11 years. Currently, as the oldest gymnast in the program, many younger gymnasts look up to Taylor as a role model.  Amongst other characteristics she exemplifies for the other gymnasts on the team, she has decided to share her sense of community & love/knowledge of the sport by coaching her younger team mates.  Taylor holds a level 7 all around gymnast national title from competing in the State Games of America in 2013 along with other state titles.  She has qualified for Level 9 States in 2015, 2016, and 2017.  Taylor aspires to continue her career as a gymnast at the collegiate level.
Kirsten Litchman has been with Shooting Starz for a few years now and loves working with the little ones in classes. She is a former gymnast under Joelle and was strong on the floor exercise. You will always see her smile in the class gym.
Mary Strunk goes to Holy Redeemer High School.  She was involved with gymnastics for 7 years starting when she was in 3rd grade.  All 7 years were with Shooting Starz and she loved competing with her team.  Mary competed up through Level 6 and was training for Level 7 upon retiring.  Her favorite event to coach is beam because beam has always been her personal favorite!  Mary loves working at Shooting Starz because she loves seeing the girls learn and excel through the sport of gymnastics, AND she always has fun coaching!
Marissa McCune is currently a Freshman at Crestwood High School. She began her competitive gymnastics career at Shooting Starz at age 9 as a Level 3 gymnast. Over the course of 4 years she quickly moved up the levels eventually retiring after completing her level 7 season. To highlight her career, she was the PA State overall bronze medalist (Level 3), PA State overall silver medalist and PA State Beam Champion (Excel Gold). Although no longer competing, her love for the sport of gymnastics has kept her where she belongs. She hopes to give back to young girls that looked up to her as a gymnast and help coach them to be the best they can be.
Vanessa Dankovitch is a senior at Coughlin High School.  She was competitive gymnast at Shooting Starz Gymnastics where her love for the gym began.  Her favorite events to compete as a gymnast were bars and vault.  She was very determined to reach her accomplishments inside and outside the gym.  She worked at her goals whole heartedly and now enjoys coaching classes and sharing her knowledge with the younger gymnasts.  She especially enjoys inspiring the young gymnasts to reach their goals and putting a smile on their faces.  She also plays lacrosse for Coughlin and plans on attending college in the fall of 2018.
Fiona Goeckel is a sophomore at Coughlin High School. Fiona started her gymnastics career at age 4 and continued for ten years.  She was on the competitive team with Shooting Starz Gymnastics for six years and trained up to Level 6. Gymnastics has helped her with other sports such as track.  Fiona is now a member of Coughlin's Track Team where she does the pole vault.  Fiona has recently become involved in a new hobby with Tae Kwon Do.  Fiona enjoys working at Shooting Starz Gymnastics because she enjoys teaching little kids and watching them progress. Fiona also enjoys volunteering her time at Shooting Starz for all of our special events such as the Pink & Black Meet and the Warrior Invitational.

Lauren Emanski is now co-heading the level 2's of 2018-19. She always is working with the pre-team/Rising starz program.